What kind of pest problem are you having?Select all that apply.
Effective Pest Control In Horry County, South Carolina
Way out on the easternmost part of South Carolina, you'll find Horry County, SC. With a population of over more than 300,000, there are plenty of businesses and homes spread throughout the area, including easy access to the coast.
With such an idyllic setting come concerns like pest invasions, so ongoing pest control is a common need.
Our family-owned and operated pest control company focuses on protecting the health and wellbeing of the people in the area while doing what's needed to eliminate your pest problems through our effective and environmentally friendly solutions.
If you're ready to take control of your property and say goodbye forever to pests of all types, then reach out to the team at Bug-N-A-Rug Exterminators today to explore your pest control options. We'll happily get you started with a free home evaluation!
Image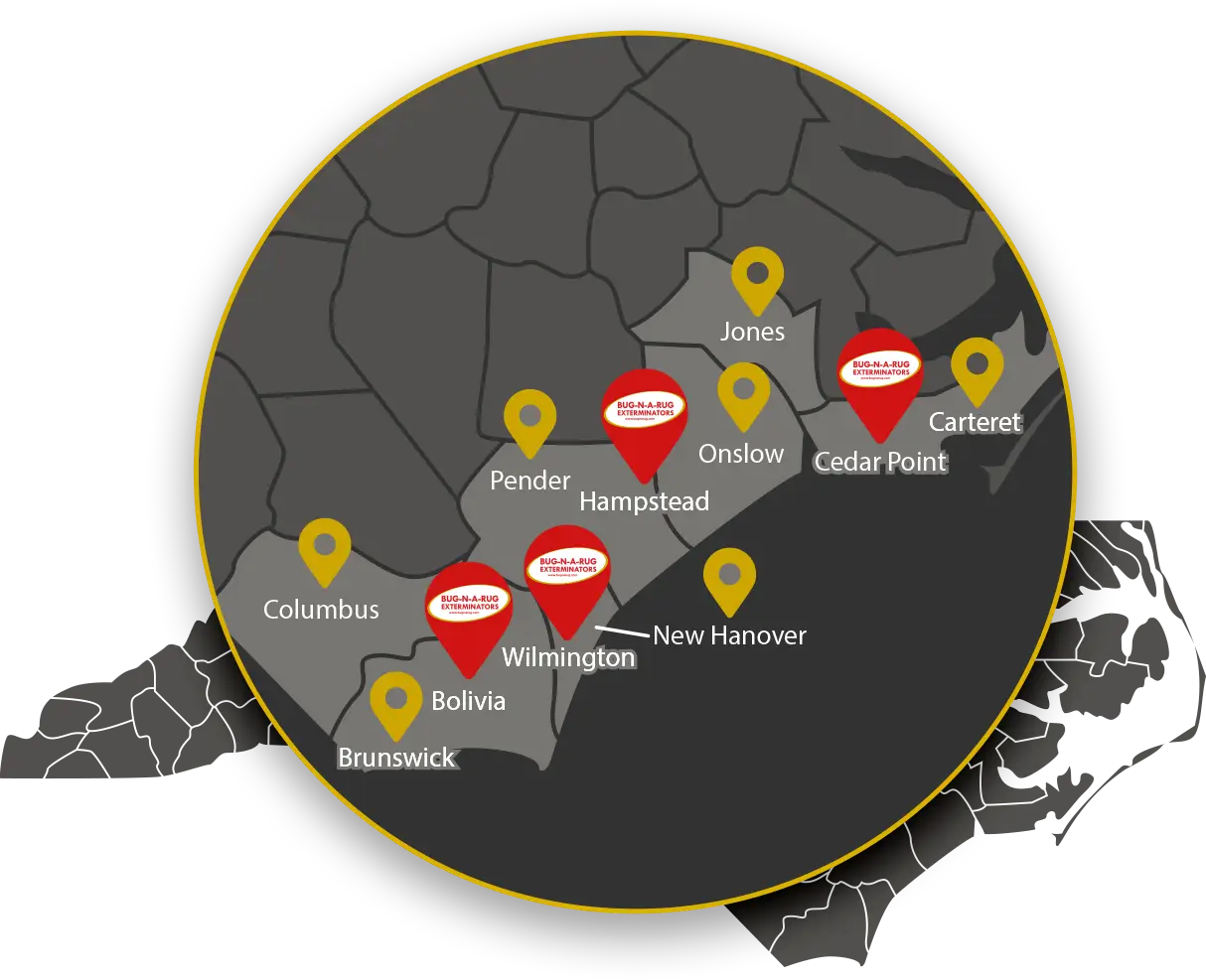 Home Pest Control In Horry County, SC
Without the proper protection, pest infestations are a permanent concern for any homeowner in Horry County. However, that doesn't have to mean your home is one of them. With our ongoing residential pest control services, you can enjoy the peace of mind you deserve without exception.
We provide ongoing services on a monthly, bi-monthly, or quarterly basis. More importantly, we're prepared to develop a customized treatment designed with your needs and situation in mind. To accomplish this, we treat your home from the inside out to eliminate the pests you're facing today while keeping you protected in the future.
Keep your home protected every single day by teaming up with Bug-N-A-Rug Exterminators for your residential pest control needs. Contact us today to schedule your home evaluation and become pest-free in no time!
Commercial Pest Control In Horry County, SC
When pests invade your business, you run the risk of upset customers, dissatisfied employees, code violations, and much more. That's unacceptable for any business, which is why the best move you can make is to invest in ongoing commercial pest control services.
We cover a wide range of business types while providing the results you need to get back to business as usual. Our team focuses on the complete extermination of pests currently on the property while laying the groundwork for prevention and ongoing maintenance, ensuring you experience long-term business protection.
With the most up-to-date technologies and eco-friendly solutions, you can count on Bug-In-A-Rug Exterminators to protect your business every single time. Contact us today to schedule your initial inspection and benefit from a pest-free business in no time!
Moisture Control In Horry County
At some point in time, everyone has experienced moisture in their Horry County home. Considering how common this problem is, you might feel like it's not a big deal. Unfortunately, moisture in the home causes a range of issues such as:
Pest Infestations
Mold problems
Property damage
Unpleasant smells
And more
The key to keeping moisture from becoming a problem in your home is to identify the reasons why you're experiencing this problem. Four common reasons for moisture in the home include:
Humidity: If your home's windows, doors, and siding aren't airtight, the natural humidity in the area can create condensation and other moisture problems.
Heavy Rainfall: Unless the water flows down and away from your home smoothly, excess water and condensation can accumulate in locations like your crawlspace.
Poor Ventilation: If air doesn't move freely throughout your home, you could end up with moisture problems. Focus on rooms like the kitchen and bathroom, among other locations.
Leaks: Any leak can lead to moisture problems in your home, whether it's through the ceiling or a damaged pipe under the sink. Stay on top of any needed repairs.
If you're facing moisture control problems, reach out to Bug-N-A-Rug Exterminators. Our team has the equipment, skill, and knowledge necessary to address your concerns. Contact us today to get started on drying out your home!
Spider Control In Horry County
Spiders aren't fun to have crawling all over your home. While most are harmless to humans, some like the black widow and brown recluse require immediate medical attention if bitten. The best thing to do is practice effect spider control with the following tips:
Focus On Entry Points: Seal all cracks, holes, and gaps along the foundation and windows to keep spiders and other pests out of your home.
De-clutter And Clean: Removing any clutter while cleaning your home eliminates hiding spots for spiders. Make sure to take out any webs you find.
Professional Assistance: Without a doubt, this is the most effective way to control spider populations because professionals can also address any other pest problems you're facing at the same time. 
Control the spider population with the help of Bug-N-A-Rug Exterminators. Contact us today to get started with an inspection and become spider-free in no time!
Areas We Service In Horry County