What kind of pest problem are you having?Select all that apply.
Pest Control In Trenton, North Carolina
When pest problems encroach on your Trenton home and business, it can be very difficult to keep them out with do-it-yourself methods. In fact, trying to deal with pest issues on your own can lead to prolonged infestations, which bring along all sorts of problems like health hazards and home damage. Fortunately for you, fighting against local Trenton pests isn't something you have to do alone.
The more you learn about the local pests and how effective our services can be in the defense of your Trenton home or business, the more you'll realize why you can't beat a professional touch.
Outside of Trenton, we also offer our pest control services in Sneads Ferry, Hubert, Holly Ridge, and throughout Onslow Country.
Image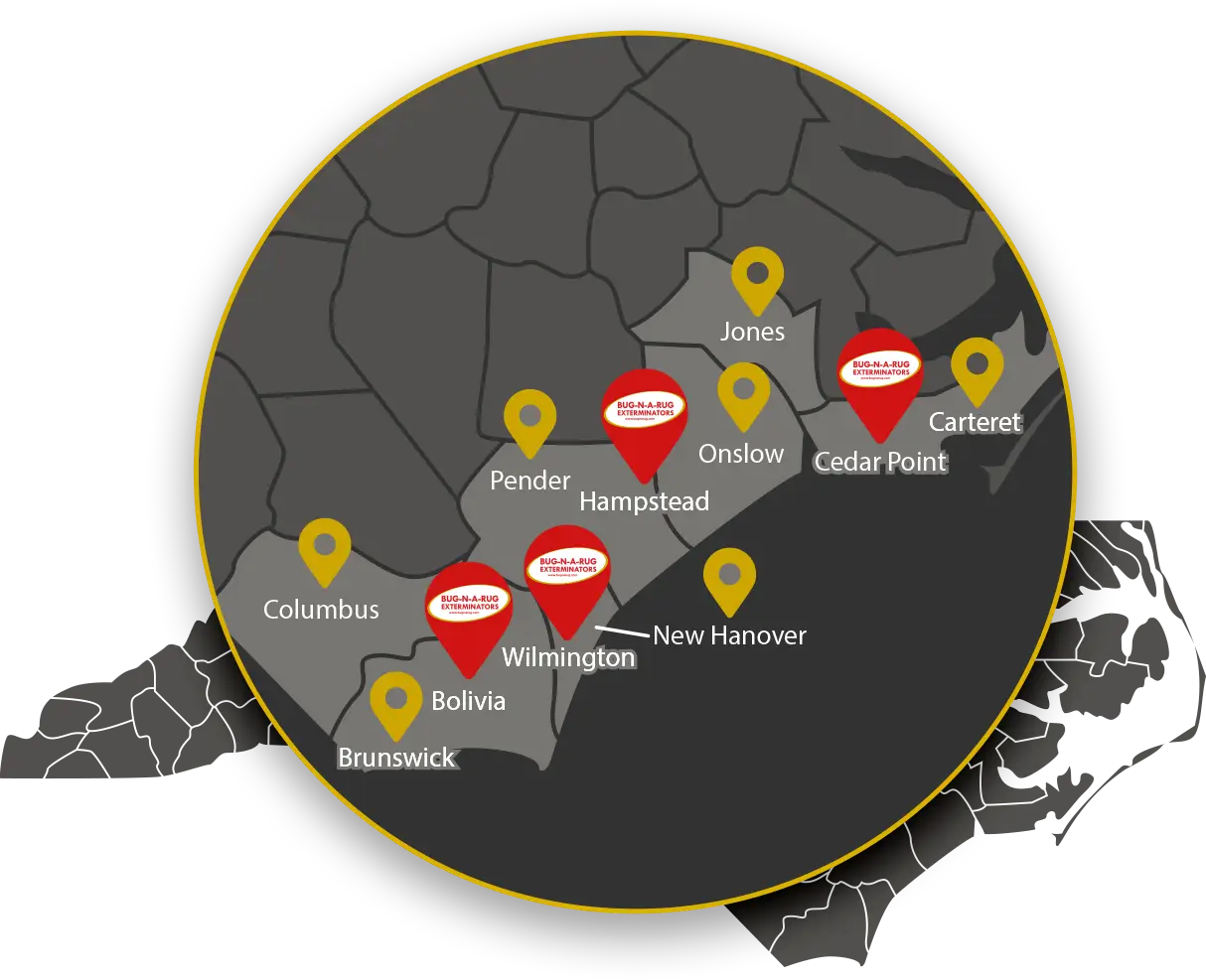 Home Pest Control In Trenton, NC
As pests invade your Trenton home, it can create an overwhelming feeling very quickly. Pests like rodents, roaches, and ants will invade your home and reproduce quickly within your walls, leading to unmanageable infestations and very dangerous health conditions.
Instead of fighting the uphill battle against pests, put your trust in our professional pest technicians. Our commitment to customer care ensures that each of our professional pest technicians is highly trained and certified to prevent pest issues on your property. We can take care of specific pest issues like invasive German cockroaches, destructive termites, disruptive wildlife, and more. Give us a call today for a free estimate on residential pest control services.  
Contact the Pest Professionals Today!
While we have a variety of pest problems in Trenton, each home or business owner also has the opportunity to partner with Bug-N-A-Rug Exterminators. With our professional pest technicians on your side, there isn't a pest problem you won't able to deal with. Having Bug-N-A-Rug Exterminators in your corner means you'll get the benefit of:
Excellent customer care.
Free estimates for all pest problems.
Free termite inspections.
Specific pest solutions.
Moisture control services.
Comprehensive general pest protection plan.
Commercial Pest Control In Trenton, NC
For a business owner in Trenton, it can be incredibly important to protect your reputation in the community. You probably know that pest problems can ruin this reputation, but it can be very difficult to protect your business on your own. Fortunately for your Trenton business facility, Bug-N-A-Rug Exterminators can supply the kind of commercial pest control services that can keep your facility safe from the dangers and damages of pests infestation.
The best part about our commercial services, apart from our experienced, qualified commercial pest technicians, is our customizable service packages. No matter what your needs and budget, we can offer the best commercial pest control services in the area to deal with your pest problems directly. Give us a call for an absolutely free estimate on commercial pest control services.
Mosquito Control In Trenton
When mosquitos infiltrate your yard, it's not only a frustrating experience, but it can also be very dangerous. Mosquitoes are actually the most dangerous animals on the planet, as one in three hundred mosquito bites can lead to harmful illnesses like Zika virus, West Nile virus, and yellow fever. So how can you reduce their numbers on your property?
Limit areas of standing water, as these are prime breeding sites for mosquitoes.

Wear light-colored clothing when enjoying time outside.

Avoid going outside at dawn and dusk, as these are the best times for mosquitoes.

Get professional help that you can count on.
Trying to get rid of mosquitoes on your own will only increase the health risks on your property. Instead, give Bug-N-A-Rug Exterminators a call. Our professional service technicians will use backpack blowers, fog treatments, and IPM solutions that can break the breeding cycle of dangerous mosquitoes with treatments every 21 days. We also have one-time treatments available. Give us a call to get a free estimate on mosquito control for your property.
Moisture Control In Trenton
As moisture issues pop up on your Trenton property, it can attract a variety of unwanted pest activity. Uneven moisture buildup in the yard can be the first thing that attracts pests like ants or termites, and excess condensation within the home can also create ideal conditions for termites, ants, roaches, earwigs, and more.
To limit pest attraction and protect your investment, there isn't much you can do on your own to deal with moisture issues in a sustainable, long-term manner. That's where Bug-N-A-Rug Exterminators comes in. Because moisture control is so essential to controlling pest problems on your property, we have special services based solely on this goal.
Our moisture control services include crawl space rehabilitation, dehumidifiers placed strategically by our pest professionals, and vapor barriers. We'll treat for wood-decaying fungi and install pumps where necessary around the foundation. We can even seal entire crawlspaces to ensure maximum protection for the foundation of your home. In order to protect your equity from moisture damage and the pests it can attract, give us a call today for a free estimate on our professional moisture control services.