What kind of pest problem are you having?Select all that apply.
Pest Control In Bogue, North Carolina
Situated along North Carolina's Crystal Coast, the town of Bogue is a charming place where people love to spend time. Who wouldn't adore it here? The water is right outside. Locals and visitors are big fans of conditions here in Bogue, but so are pests. Pest activity is a year-round reality here in North Carolina, and that means all Bogue properties are vulnerable to experiencing pest infestation. In order to protect your home or business from pests, we recommend help from the pros.
Image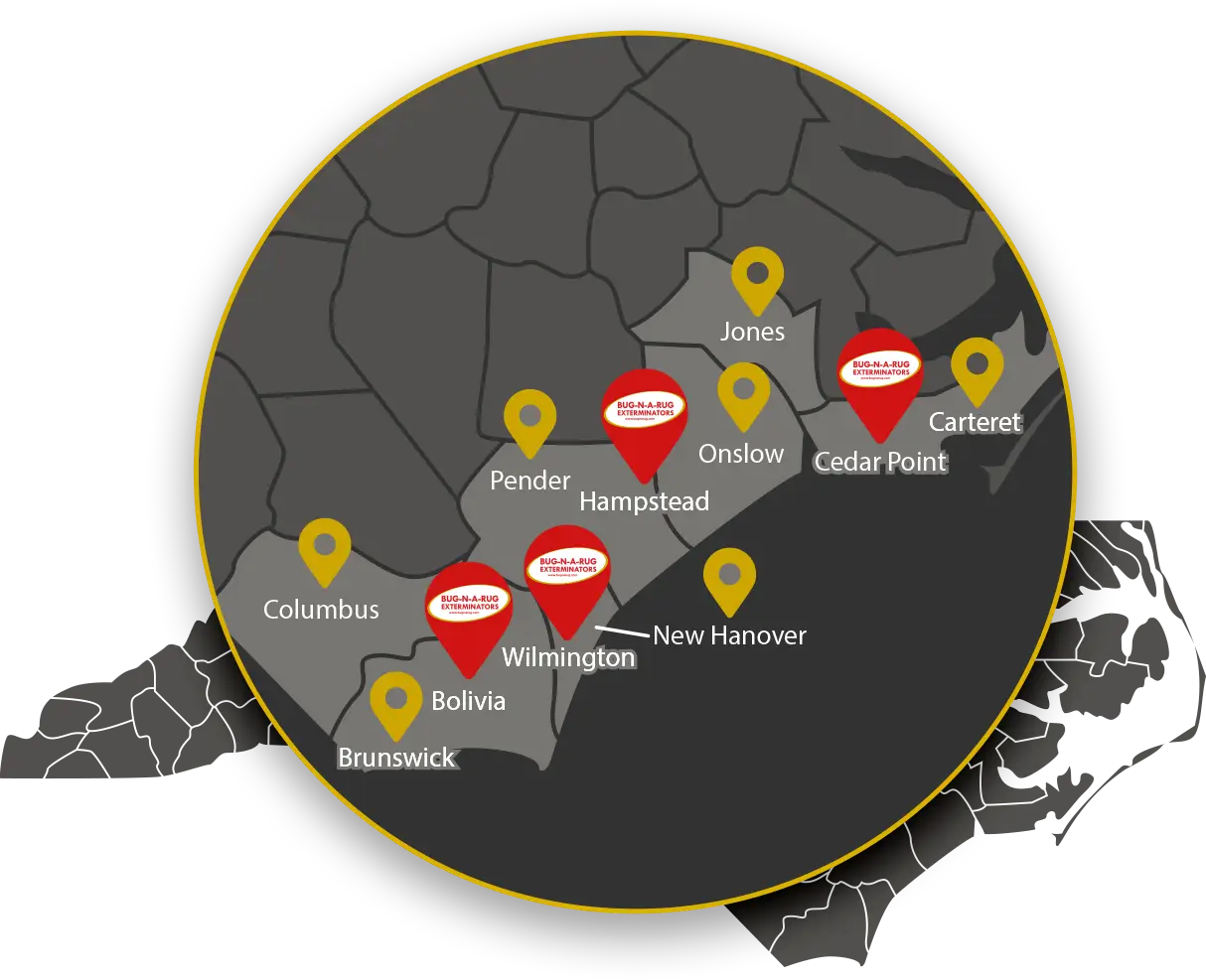 Residential Pest Control in Bogue, NC
Your Bogue home is every pest's dream. With so many sources of water, food, and shelter to choose from, your home is rather conducive to infestation. Household pest infestation poses serious dangers to your health and safety, not to mention that of your loved ones. The best way to protect yourself and your family from harm is to rely on the experts. We provide complete residential pest control solutions that Bogue homeowners can count on.
Our treatments are available quarterly, bi-monthly, or monthly, and we always work closely with our clients to develop the perfect plan of approach for their particular problem. We block off entry points, use baiting and gel methods, and implement necessary habitat modifications to keep pests off your property for good. We also offer real estate inspections and pre-build treatments for new construction. Reach out to us to discuss your residential pest control needs today.
Bug-N-A-Rug Exterminators is a family-owned and operated company that has been offering customized residential and commercial pest solutions since 1996. Our "Green Pest Control options" offer environmentally friendly solutions that guarantee safety on all levels. Our staff regularly educates themselves on the most up to date technologies, and most effective new treatments to make sure we're providing the best pest control possible. Call us today to get started.
Commercial Pest Control in Bogue, NC
If pests get inside of your business, there are a variety of consequences. Infestation causes wide-spread contamination and puts the health and safety of your employees and customers in danger. That's why it's crucial to secure the best property pest protection for your facility. Here at Bug-N-A-Rug Exterminators, we provide commercial pest control services to a variety of local businesses. From healthcare offices and storage warehouses to restaurants, food service, and schools, we've got you covered.
 
After a thorough inspection, we'll come up with a treatment plan that is strategically developed to target the root of your pest problem. Call us today for a detailed estimate. We're happy to discuss our commercial pest control solutions, and how they can be of service to your business. Our main goal is to make your property pest-free, preventing pest activity for years to come.
Ant Control In Bogue
Ants are tiny in size, but huge in their ability to cause trouble. They sneak into cracks and crevices along the foundation and infest your property in large numbers. Their populations spread rapidly, and the whole situation can get out of control. In order to avoid ant infestation, here are some helpful things you can try:
Clean up spills and crumbs, and keep food in tightly sealed containers.
Don't leave pet food out, and store it in sealed plastic containers.
Eliminate access points by sealing all cracks and crevices around outside of the home.
Eliminate standing water and any sources of excess moisture.
Keep branches, trees, and bushes well-trimmed, and directed away from the house.
Maintain a high level of cleanliness, and practice proper sanitation.
Repair leaky pipes, faulty facets, and malfunctioning drains.
Take out garbage regularly, and store it in a trash can outside with a lid.
Use a dehumidifier in damper areas of the house like basements, crawl spaces, and attics.
Wipe down counters, sticky jars, and residue.
The most reliable and effective source of ant control is ongoing services from the pros. Call the team at Bug-N-A-Rug Exterminators for year-round ant management and prevention solutions. We're highly experienced in the successful extermination of local ant populations, and we're here to protect your Bogue property from infestation.
Bed Bug Treatment In Bogue, NC
Bed bug infestation is a total nightmare that no property owner wants to experience. It's best to be as proactive as possible in protecting yourself. If you want to effectively guard your property against a bed bug infestation, there are a number of preventative measures you can take.
 
A lot of bed bug prevention has to do with cleanliness. It's important to reduce clutter, giving bed bugs fewer places to hide. You should regularly wash and dry all bedding, linens, and clothing on high heat in order to kill off bed bug activity. You should also steam clean your upholstery, curtains, and furniture to kill off bed bugs. It's important to use protective encasements on your mattresses and bedsprings as well. This will keep new bed bugs from getting in, and it will stop present bed bugs from getting out.
 
These are all great ways to be proactive, but the most effective bed bug control solution is still professional pest services. Call us today to set up a comprehensive inspection, and we guarantee a bed-bug-free property that you can feel good about.
Mosquito Control in Bogue
Say goodbye to pesky mosquitoes with our professional mosquito control in Bogue! Our expert exterminators use environmentally-sensitive practices to eliminate the threat of mosquitoes at their source, ensuring a safe and comfortable outdoor environment for you and your family. With our top-quality mosquito treatment, you can enjoy the beautiful Bogue without the worry of insect bites and relentless swarms. Here's what we offer:
Free inspection for your property to determine the extent of the mosquito infestation
Fogging treatment to eliminate adult mosquitoes on contact, leaving your outdoor space mosquito-free
Family-friendly treatment using safe and harmless larvicides in targeted areas to prevent mosquito breeding
Season-long protection with regular visits to ensure that you're always mosquito-free
Located in Bogue, NC? Then you know that the warm and humid climate and abundant bodies of water create the perfect environment for mosquitoes to breed, and can be a continuous problem that ruins your outdoor experience. Don't rely on sticky bug sprays or smelly candles anymore – let us provide you with our mosquito prevention solutions. Contact us now and let us take care of your mosquito control in Bogue for a comfortable, pest-free environment you'll love to enjoy.
Termite Control in Bogue
Are you concerned about the potential damage termites could cause to your Bogue home? You're not alone. The humid climate here makes ongoing termite monitoring and prevention a must. But don't worry, our experienced termite exterminators in Bogue are here to help. With over 25 years of experience, we offer comprehensive termite inspections and control services to keep your home termite-free. Here's what we offer:
Family- and pet-friendly termite treatments
Ongoing termite control, monitoring, and prevention
Comprehensive termite inspections
Trelona bait stations to keep termites away for good
Don't let termites get the best of your home. Trust our termite control service to get rid of termites and protect your property. And with our pest-free guarantee, you can rest easy knowing your home is safe and sound. Contact us today to schedule your termite inspection.